Pine Cliffs Accommodation
There are several stunning types of Pine Cliffs Resort accommodation ranging from:
Pine Cliffs Resort is a stunning luxury resort for the entire family, set amidst the gorgeous backdrop of Falésia beach, soaring red cliffs and the magnificent Algarve. The ideal family resort, Pine Cliffs offers endless leisure, entertainment and sports facilities, so there is sure to be something for everyone. Visitors to the beach will find sunbeds and umbrellas so they can bask in the sun as they savour these spectacular views.
The complex is host to a luxurious 9-hole golf course set on the edge of a breathtaking cliff overlooking the expansive Atlantic Ocean. There is also a driving range and golf academy, where guests can learn from the professionals! For tennis enthusiasts, there are also a range of tennis courts and professional tennis players who are ready to help you perfect your technique. For children there is the Porto Pirata children's club, complete with its own adventure park, where younger guests will have fun for hours.
Pine Cliffs offer a range of luxury residences that can accommodate every type of family. These properties include the Pine Cliffs Premier Club Townhouses, Residence Apartments, Golf Suites and Deluxe Golf Suites, Ocean Suites and Terraces. All are fully equipped with every luxury necessary to make your stay at Pine Cliffs unforgettable.
Pine Cliffs Resort Offer
Design Holidays can provide exclusive early booking discounts for the Pine Cliffs Resort and the all the Pine Cliffs Accommodation available. With up to 20% off and Free Half Board on selected dates 2 bedroom Pine Cliffs Residence Apartments – perfect for a family of 4 from £1040 per week.
Townhouses
The Pine Cliffs Premier Club Townhouses offer a luxurious base for guests to return to after a busy day of adventure and relaxation by the beach. These properties enjoy a very private and exclusive setting, surrounded by pine trees and flowing water to create an exquisite and secluded environment perfect for unwinding.
These two-storey townhouses are available in either two or three bedrooms to suit your particular family. Each townhouse features an outdoor terrace and a barbeque area where your family can soak up the natural beauty of the Algarve while enjoying a relaxing meal.
All of our townhouses are inclusive of air conditioning, high-speed internet, telephone lines, fully-equipped kitchen and laundry area, private and furnished terrace or balcony, barbeque area, living room with LCD television and satellite, luxurious dining room and fireplace. Bathrooms are stocked with amenties from the Luxury Collection, and all of our guests can enjoy 24-hour room service, housekeeping services and have access to all Pine Cliff Resort guest facilities.
Residences
Situated in the centre of a beautiful pine grove just above the sea, the Pine Cliffs Residences offer luxurious two and three bedroom apartments. Designed to satisfy your every need, the Residences were built with luxury in mind. Every detail has been carefully attended to so that you are guaranteed a completely relaxing and wonderful luxury experience in your home away from home.
The Pine Cliffs Residence apartments offer the most exclusive accommodation at the resort. Each apartment is decorated in a modern and elegant style and features fantastic views of the golf course and surrounding gardens. Each is fully air-conditioned and features all modern luxuries, including an LCD television in each bedroom as well as the living room. Guests enjoy complete access to all of the Pine Cliffs Resort facilities, including the health centre, salon, golf course, swimming pools, children's resort, sports facilities and much more. The Residences are also located in a prime location within the resort near the Casa Pine Cliffs, where many facilities including restaurants, bars, gym, a large outdoor pool and a mini-market can be found.
Golf Suites and Deluxe Golf Suites
For golf enthusiasts (or for those who simply want to enjoy a prime location and the stunning views of the golf course), the Pine Cliffs Golf Suites and Deluxe Golf Suites are the ideal place to enjoy your Pine Cliffs holiday. Each suites is decorated in a modern, luxuriously elegant style, and each is fully air-conditioned and features LCD televisions in every bedroom as well as the living room. Besides the stunning views, guests can enjoy access to all of the surrounding gardens and all of the resort's facilities, including excellent sport, leisure and entertainment opportunities. The ideal location means that guests can find bars, restaurants, shopping and both a gym and pool within easy reach of the suites. The Golf Suites are an excellent choice for any family during their stay at Pine Cliffs and will provide a luxurious and relaxing place to return after a full day of leisure and adventure.
Ocean Suites
The new Pine Cliffs Ocean Suites offer stunning views of the sea and the amazing coastline of the Algarve, perfect for anyone who wants to truly get away from it all and bask in a paradise of Mediterranean beauty. These suites were designed to offer the perfect combination of modern luxury and classic Portuguese style, and feature beautiful handpainted tiles and the glamour of the Luxury Collection by Starwood Hotels. The architecture of each suite has been carefully considered to maximise the effect of light and enhance the feeling of spaciousness.
These gorgeous one bedroom apartments offer the best of modern luxury and provide the perfect backdrop for anyone who yearns for a truly relaxing holiday. Fitted with only the best modern amenities and fabulous ocean views, each suite features air conditioning, an LCD television and outdoor terrace or balcony.
Terraces
The Pine Cliffs Terraces offer modern style in a gorgeous Algarvian setting. Nestled between a peacefully flowing stream and exquisite gardens, the Terraces provide an exclusive, relaxing, and secluded base for guests who want to retreat into their own haven at the end of a leisure-filled day.
These ultra-modern townhomes feature the best in modern amenities so that you and your family will enjoy every aspect of your stay at the magnificent Pine Cliffs Resort. With their open-plan, flowing design, the Terraces are perfect for family holidays, and they are ideally situated near the sports and leisure facilities of the resort. Bask in complete relaxation as you unwind from the stresses of everyday life in our luxurious townhouses and enjoy an unforgettable holiday of a lifetime.
---

Pine Cliffs Villas
Both Pine Cliffs villa types at the Pine Cliffs Resort are stunning, the main difference is that the deluxe villas are more recently built.
From £2775 p/wk
View & Book

Pine Cliffs Townhouses
The Pine Cliffs Resort 2 bedroom townhouses are spacious and have fabulous views of the Pine Cliffs Resort
From £1040 p/wk
View & Book

Pine Cliffs Apartments
The stunning Pine Cliffs Residence Apartments are by without a doubt the most sought after accommodation.
From £1040 p/wk
View & Book

Pine Cliffs Terraces
The magnificent Pine Cliffs Terraces are a unique cluster of contemporary Pine Cliffs townhouses located in a dream setting.
From £1526 p/wk
View & Book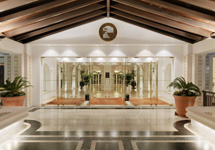 Algarve Hotel
Sophisticatedly decorated, the Algarve Hotel rooms provide an unforgettable experience for guests.
From £118 p/n
View & Book
---