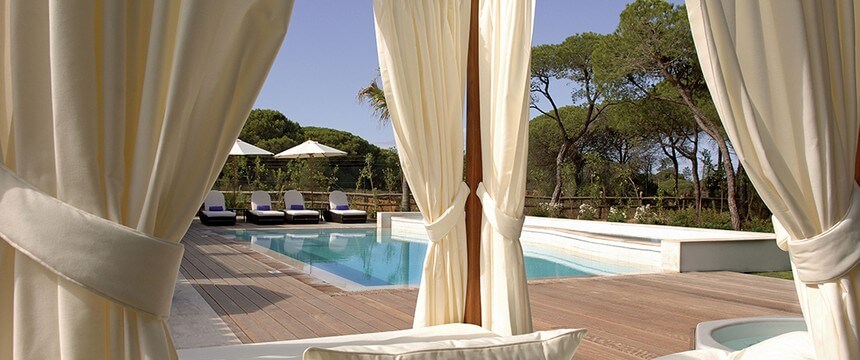 Pine Cliffs Resort Villas
Fabulous choice of Pine Cliffs Resort Villas to rent
The Pine Cliffs Resort hosts some of the best luxury villas to rent in the Algarve. For those luxury family holiday seekers looking for the total privacy of a rental villas with the deluxe facilities of a five star hotel, then look no further than the Sheraton Pine Cliffs Villas. The Sheraton Pine Cliffs Villas  is a perfect family holiday resort.
*New for this year Free WIFI at Pine Cliffs.
The Sheraton Pine Cliffs Villas are located at the Pine Cliffs Resort which is just a few minutes from the Pine Cliffs Algarve beach, Porto Pirata Kids Club, Restaurants and Golf Club. The Pine Cliffs Resort Villas are all furnished in a contemporary style, 4 luxury bedrooms, private garden with a swimming pool, jacuzzi and a wide area with sunbeds.
Pine Cliffs Resort Villa Holiday
The Pine Cliffs Villas are located on 72 acres of land surrounded by pine trees and overlook a glorious sandy beach of Falésia Beach. The Pine Cliffs Resort  provides first class service and outstanding luxerious Villa accommodation, with activities to suit the whole family. There are 2 choices of Pine Cliffs villas with pools : Standard or Deluxe.
Both Pine Cliffs villas grades are 4 bedroom and offer a private and secluded Pine Cliffs Resort villas holiday at the Pine Cliffs Resort.
What we say :'Both Pine Cliffs Resort Villas types at the Sheraton Pine Cliffs are stunning, the main difference is that the deluxe villas are more recently built and therefore have a more luxurious feel especially in terms of decor with most having jacuzzi'.
Pine Cliffs Villas are located in the Algarve which is the southern most region of mainland Portugal just so 20 km from Faro International Airport (FAO) making the transfer time to The Sheraton Pine Cliffs Resort around 40 minute.
Book Your Pine Cliffs Villa Holiday Today
To book yourPine Cliffs Villas Holiday or to talk to one of our dedicated Pine Cliffs Resort booking team then then call 01444 87 2200. Please browse this website if you wish to find out more about the Pine Cliffs Villas Resort.
Exclusive Offers
15% Early Booking Discounts
---
Features
As a resident staying on holiday at the Sheraton Pine Cliffs Villas you are entitled to special discounts at the Sheraton Pine Cliffs restaurants and bars, Pine Cliffs Golf Course, the beauty salon, Porto Pirata – Kids Club, tennis centre, boutiques…..
Sheraton Pine Cliffs Villas Concierge service
Golf reservations
Restaurant reservations
Babysitting service and cots
Car hire and taxi service
Excursions
Each Pine Cliffs Resort Villa is equipped with:
Satellite TV and Pay-TV
Telephone with message service and voice mail
Internet access
Staying at the Pine Cliffs Resort Villas entitles you to access :
Health Clubs and Gym
Indoor & Outdoor Pools
Restaurants and bars
Shops
Sauna
Jacuzzi
Beach Club
Games Room
Porto Pirata Kids Club
Mini-golf
Club Golf Academy
Tennis
Other Pine Cliffs Villa Holiday services:
VIP treatment upon arrival
Shopping service
Activities for the whole family
Safety at the Pine Cliffs Villas
24-hour security and manned front gate
Additional Pine Cliffs Villa Benefits
Discounts in all restaurants and bars within the Pine Cliffs resort
Discounts in Porto Pirata Kids Club, Mini-golf and Tennis
Discounts on Laundry services
Discounts on the Pine Cliffs Golf course as well as a variety of other golf courses in Algarve
Discounts in the Pine Cliffs shops and boutique
Five-star hotel service in the privacy of your Pine Cliffs holiday villa.
---